Press Area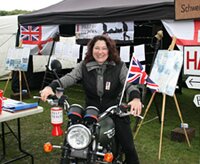 The team are fortunate to have Louise Stewart of Finesse PR will be handling all of our PR matters.
Louise is a respected motorcycle journalist and now uses her considerable skills in PR with one her current clients in the British Supersport series.
Her contact details are:
Email:
Mobile: 07778 274087
---
Please click on the item you would like to download.
      Press Release
      Interview with Spud & Kriegie
Photographs of the team.
The Team     Team with Bikes    Team with Bikes2