How to Donate
Thank you for donating to two wonderful charities who do so much for our Service Personnel, especially those who return injured.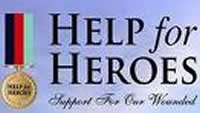 You can donate in three ways:
1. Just Giving


You can donate direct to our dedicated Just Giving sites. Please select the Gift Aid, which costs you nothing, but the charity's will receive the tax element. This means more money for them!
To donate to "Help for Heroes", click here
To donate to "The Royal British Legion" click here.
2. By cheque.
You can send a cheque made payable to: "GE2" which should be sent to:
Great Escape 2
Alpha-Omega
33 Little Sammons
Chilthorne Domer
Yeovil
BA22 8RB
3. Bank Transfer.
You can make a bank transfer to our account. The details are:
Name of bank: Lloyds TSB
Account name: "GE2"
Account number: 31881160
Sort code: 30-99-98
BIC: LOYDGB21208
IBAN number: GB68 LOYD3099 98318811 60